Events
Solo Exhibition - July and August 2017 - Durham Cathedral
Naomi is currently present an exhibition of pen and ink drawings in the Undercroft Restaurant, Durham Cathedral throughout July and August 2017.
Solo Exhibition - 2nd - 29th May 2015
Naomi presented her first solo exhibition at her former Durham University college St. Cuthbert's Society.
Community Supported Art and Enterprise Programme
Naomi was invited to get involved in a new project called the Community Supported Art and Enterprise Programme by the North East Enterprise Trust. The Trust is a non-profit community-based organisation with Sir Peter Vardy as its patron. The trust releases a special bond costing £1000 that is used to exclusively commission artwork from nine artists. Each of the 50 bond-holders receive a signed and limited edition reproduction of this work. The other artists producing work for this project include: David Welsh, Claude Frere Smith, Simon Rivett, George Bosnyak, Alan Reed, Eric Lee, Lee Cutter and Jessamy Kelly. The programme is a great value way to collect art and connect with other art lovers. For more information and to secure a bond email mike@theneet.org.
The picture shown to the left is the drawing I have produced for the project. It is a drawing of the Causey Arch, in County Durham, which is the world's oldest surviving railway bridge. 50 prints were made of this picture, one for each of the 50 bond holders. This drawing will not be available anywhere else.
Click
here
to see the invitation and more information about each of the artists.
North East Art Collective
Originals and limited edition prints are available in the North East Art Collective which is a gallery in Eldon Gardens, Newcastle Upon Tyne.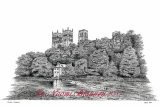 World Heritage Centre, Durham City
You will find a selection of Naomi's pen and inks featuring her image of Durham Cathedral on display in the shop. To find it, head for the Cathedral from Silver Street and you will see it on your left before you get to Palace Green. Whilst there, discover some fascinating information about Durham.